The Benefits of Serological Multi-Marker Controls
Multi-marker controls offer more than greater efficiency & lower costs
Monitoring your assay performance helps avoid false-negative and false-positive results and reduces costly repeats. With serology controls and reference materials, labs can troubleshoot test methods and isolate system errors in their procedures. And the controls allow routine monitoring of day-to-day test variation, lot-to-lot performance of test kits, and operator variation. The practice of regularly determining testing precision instills greater confidence and offers peace of mind.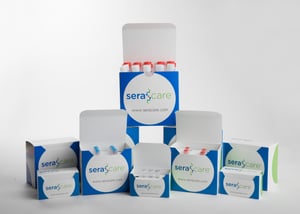 Multi-marker controls deliver key added benefits. Labs can simplify testing by using one control vial for analytes commonly grouped in one laboratory area. Reducing the number of vials saves valuable space and time without sacrificing performance. Labs develop more efficient workflows because there's no need to run multiple individual controls, leading to lower overall quality control costs.
Many of our third-party ACCURUN® serology controls are offered in a multi-marker format. They're also a reliable source of low-positive material, which challenges your assay since they're closer to the cut-off, making variability in the assay easier to detect. Lowering your false-positive rate means fewer repeat tests and additional analyses.
Trust the results
Some in the industry have expressed concerns about multi-marker controls not differentiating between HIV-1, HIV-2, and other HIV markers. The truth is that few assays on the market today can make that distinction. In fact, initial antibody and antigen-antibody screening tests aren't considered definitive when it comes to diagnosing HIV. That's why the Centers for Disease Control and Prevention (CDC) requires additional testing for confirmation (follow-up reactive sample testing with an HIV-1/2 differentiation assay).
Labs with concerns about assay performance against specific markers have alternative products available, including verification and specificity panels as well as true disease state material.
Balance performance and workflow
ACCURUN controls are relied upon by many world-class laboratories to ensure assay performance. In part because they mimic a patient sample, are reliable and ready to use, and are available in single-marker and multi-marker formats.
As part of your lab's quality assurance program, ACCURUN controls increase confidence in test results and support regulatory compliance.
Learn more about how including multi-marker controls in your laboratory's QC program can give you confidence in your performance while more efficiently using staff time and department budgets.
To read more about lowering your false positive rate, check out our latest blog titled, How low can you go? Performance at lower levels is critical. To download the related white paper, click here, or on the button below.