5 Best Practices for Best-in-class Clinical Lab Quality Control
Reliability and reproducibility in a clinical lab are paramount. So is preventing (or at least minimizing) actions that disrupt throughput and workflows or negatively impact resources. A robust quality control program offers lab management the most powerful tool to accomplish all these goals. To get the most from quality control management, ensure your program is not just standard practice but best in class.
Keys to best-in-class quality control program
Culture of quality
Continuous improvement
Audits and automation
Maintenance and monitoring
Third-party controls
Culture of quality
Create an environment that supports quality throughout the lab by involving staff in the process and developing a strong, effective document control system. Recognize and reward staff for bringing quality issues to lab management's attention. Open communication helps identify and resolve quality problems quickly.
Document control is a common deficiency in lab inspections. While lab procedures and protocols are detailed within the standard operating procedure documents, document changes, and revision history also must be tracked and controlled to ensure the lab uses the most up-to-date protocols. Don't allow the use of cheat sheets or other materials that are outside the doc control system.
Continuous improvement
Strive to continually improve lab processes and protocols that are working well. Identify core metrics, set target goals, and track progress so everyone understands the lab's overall performance and where there's room for improvement. Metrics need to be monitored and analyzed regularly and adjusted as needed.
Focus on the most critical and actionable metrics, your key performance indicators (KPIs), and track them. For example, you may want to track test failure/repeat rate, test volume, turnaround time, cost per test, or equipment efficiency. As you develop your KPIs and set goals, benchmark your performance against a peer group.
Embedding continuous improvement into your lab requires regular communication of the metrics, opportunities for staff discussion, and a mechanism to solicit staff recommendations. Part of the communication plan should include a visual format for presenting the information—something simple so that staff can immediately see the key indicators' status.
Audits & automation
Processes that impede throughput and strain resources tend to be the same areas where breakdowns and mistakes occur. Proactively identify inefficient workflows by being on the lab floor and carefully watching workflows from beginning to end. Look for bottlenecks and processes that are highly manual, have extended turnaround time, or give technicians the greatest difficulties.
From there, build process maps for those areas by involving the responsible staff. The team likely will identify unnecessary steps that can be eliminated and offer ways to improve necessary but inefficient steps. Commit to regular training for all staff on workflow improvement and updated standard operating procedures. You'll find these opportunities will keep staff focused and boost morale.
Automation is another way to improve workflow efficiency. The return on investment, in terms of improved efficiency, can be worth it. You'll be minimizing errors and freeing up personnel for more valuable activities.
Maintenance & monitoring
When budgets are tight, preventive maintenance contracts and independent reference materials may seem like non-essential expenses. But the true cost of quality control failures (test failures, instrument failures, and process failures) is higher. You're investing in prevention, which may seem more challenging to measure. Preventing failures reduces staff time spent troubleshooting and test repeats and not generating reportable results.
CLIA requirements are standard practice for many labs, but those requirements aren't necessarily best practices. There is a difference. For example, CLIA requires daily run controls to monitor test system accuracy and precision without any specifics about the type or design of those controls. In the US, CLIA regulations govern lab operations, so labs often use only assay manufacturers' controls because they're included in the assay kit. ISO 15189 guidelines are considered the global gold standard for quality management in clinical laboratories. Those guidelines clearly state that independent, third-party controls should be used for quality monitoring test systems:
"Use of independent third-party control materials should be
considered, either instead of, or in addition to, any control materials
supplied by the reagent or instrument manufacturer."
Third-party controls
Why are third-party controls so important? Because they are independent. A manufacturer didn't create them to test their own instrument.
Manufacturer controls often are:
formulated from the same raw material as the assay calibrators, which mimic the calibrators' performance
high-positive controls, which will not challenge the assay at lower detection limits where the medical decision point lies
optimized for use with the manufacturer's test system and thus are less likely to identify assay performance issues
These controls tend to have frequent lot changes, which makes long-term assay monitoring difficult. They often can't detect several events that can lead to adverse assay performance trends, including calibrator degradation, faulty equipment, lot-to-lot performance decline, and subtle changes at assay detection limits that could produce inaccurate results.
Our ACCURUN molecular controls with low limits of detection, excel by testing closest to the assay cut-off, ensuring superior low-end sensitivity. Our controls deliver the truest assessment of an assay's performance at the critical lower limits of detection, precisely where clinical decisions are made.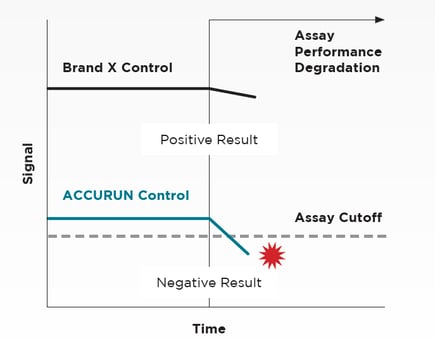 Third-party checklist
Use it to compare third-party controls and vendors.


Patient-like control matrix (mimics authentic patient samples)



Full-process (designed to detect errors at every stage, from sample prep to detection)



Targeted near clinical decision point (low positives truly test an assay's performance)



Ready to use (controls that need to be manipulated can create errors and workflow delays)



Stable (material with a long shelf-life helps manage inventory and reduces waste)



Large lot sizes (a single lot allows labs to perform long-term quality control monitoring)
Track record of supporting clinical labs' needs (vendor can meet supply demands and provide technical support when needs fluctuate)
Our ACCURUN molecular controls check all the boxes:

Take your quality control from standard practice to best-in-class with the five best practices described above. Discover more when you download our white paper - Best Practices for Clinical Labs: Strategies for Implementing Best-in-class Quality Control System.
LGC Clinical Diagnostics | SeraCare is a trusted and experienced third-party control vendor. Our products are traceable from sourcing, through processing, to delivery — providing a high level of confidence, quality, and safety. Our facilities are ISO 13485-certified and comply with cGMP regulations.
We support the diagnostic testing industry with biological materials to develop, validate, and challenge today's most trusted molecular and serological infectious disease assays. LGC Clinical Diagnostics | SeraCare is an elite provider of high-quality third-party controls to the clinical laboratory market, with decades of experience designing and manufacturing effective quality control monitoring tools.